workshops, women technique seminars, private clases, show, tango events (festivals, weekends, holiday)
Anna Yarigo
profesional dancer and teacher
Contact me
Argentine Tango
Become Argentine Tango or Milonga Professional on my lessons
Fresh and young TANGO in teaching, dancing with 100% of improvisation
The tango lesson is more like a Mozart comic opera, fun but hard work.
The way of teaching differs with easiness and accessibility for different levels of dancers and clear structure
Special personalized method of teaching, based on the natural body movement
Bailarina profesional y profesora de Tango argentino desde 2006.
Con más de 25 años de experiencia en baile clásico, bailes de salón, jazz, coreografía, acrobacia, Kung Fu, danza contemporánea, hip-hop/R&B y baile social.
Juez del campeonato mundial de tango en Corea 2018, China 2019.
Trabaje con Jose Vazquez, German Salvatierra, Raul Masciocchi, Mauricio Borgarello, Estanislao Herrera, Angel Coria.
Organizadora de tango-vacaciones en varias ciudades europeas y festivales de Tango. 
Experiencia 
Compañera de José Vázquez desde 2009 hasta 2016, junto a él trabajé en distintos festivales y escuelas, impartiendo clases y realizando exhibiciones en: 
Alemania: Munich, Nuremberg, Ulm, Ludwinburg, Frankfurt, Wuppertal, Ingolstatd.

 

Suiza: Ginebra, Chur.

 

Malasia: Kuala Lumpur.

 

Finlandia: Oulu, Yyvaskyla
Noruega: Stavanger.
Corea: Seul.
China: Beijin.
Polonia: Varsovia.

 

Bielorrusia: Minsk.

 

Ucrania: Crimea.

 

Holanda: Amsterdam, Haag, Texel, Rotterdam.

 

Bélgica: Bruselas, Hasselt, Ekeren.

 

UK: Bournemouth.

 

Lituania: Vilnius.

 

España: Vigo, Sevilla, Madrid, Barcelona, Gerona, Conil de la Frontera, Cádiz, Santiago de Compostela, A Coruña.

 

Luxemburgo

 

Rusia: Moscú, Samara, Toliaty, Ulianovsk.

 

Turquía: Estambul, Antalya.

 

Francia: Saint Raphael.

 

Argentina: Buenos Aires.

 

Italia: Nápoles, Roma, Terracina, Sperlonga, Cerdeña, Turín, Milán, Pisa, Vicenza, Módena.

 
Participación en espectáculos 
Minsk (Bielorrusia) – 2009 / 2010 
«Historias de Buenos Aires» con 18 alumnos en el escenario

 

«Tango: ayer, hoy y para siempre» con 23 alumnos en el escenario y orquesta en vivo.

 
Samara (Rusia) – 2011 
«El Porteño» con 20 alumnos y cantante.

 
Frankfurt (Alemania) – 2011 
«Tango» con la orquesta Conexión Tango.

 
Terracina (Italia) – 2012 
«Tango y más» Tango y folklore argentino.

 
Chur (Suiza) – 2011 / 2013
«Una noche en Buenos Aires»

 

«Cuerpo a Cuerpo» espectáculo teatral, baile contemporáneo, tango, flamenco y orquesta en vivo.

 
Moscú (Rusia) – 2014 
«Noche de Tango» con Orquesta Misteriosa y 4 parejas profesionales.

 
Organización de tango-vacaciones 
Francia: Vacanciel, durante los años 2013 y 2014.

 

España: Gerona, El Puerto de Santa María, en 2015 y 2016.

 

Italia: Sperlonga, dos veces al año, en 2012, 2013, 2014.

 
Actualmente 
YATangoSchool en Vigo, España con clases regulares, prácticas, milongas y workshops. (desde 2018)
Festival Internacional de Tango y Amigos – FITA & I Easter Tango MARathon (desde 2016) Junio 2020
Eastre Tango Marathon  09 -12 April 2020 – suspendido por Coronavirus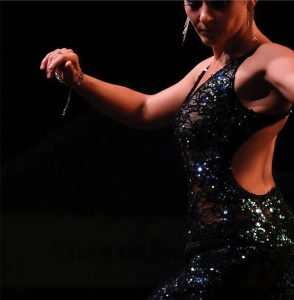 She has been teaching tango all over the world for the last 13 years. Her group lesson are both serious and hilarious. She is charming and precise.
In the class she focuses on students needs how to make there Tango easier and more interesting. She has a good eye on details and can «fix» you just in a second. He dancing is very powerful and dynamic, full of feelings and emotions with a high level of technique and unique interpretation of the music.